Why Gastroenterologists Need to Market Their Practice Online
Gastroenterology providers need online marketing like never before mainly due to the following reasons:
Post COVID awareness amongst people
The growing percentage of tech-savvy patients who rely heavily on online platforms like search engines, review sites, social media, etc., for gathering information and finding a provider
78% of the new patients and 59% of the referral patients seek information online and visit profiles
7 out of 10 of these people are also using some form of social media for accessing health information and finding a care provider.
Another survey conducted by team Digi Experts (360 Digital Marketing Agency in Pakistan) suggest that a significant percentage of the patient population (about 82%) use online reviews to evaluate a doctor before finally selecting them as their provider.
All of that points towards the need for a robust online marketing strategy for gastroenterologists.  Let's discuss the different online marketing tools and tactics that can increase patient acquisition opportunities for you.
Different Gastroenterology Online Marketing Techniques and What They Do
The different gastroenterology marketing techniques and their uses are:
#1. Gastroenterology SEO:
When people don't have a referral, they search for a gastroenterologist online. This trend has been on the rise in recent times. Google registers keywords like "gastroenterologists near me," "GI doctors near me," "stomach doctors," "pediatric gastroenterologist near me," and "best gastroenterologists near me" in the thousands every month. See the screenshot below:-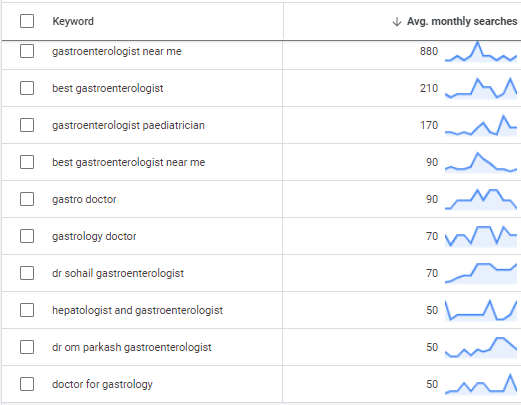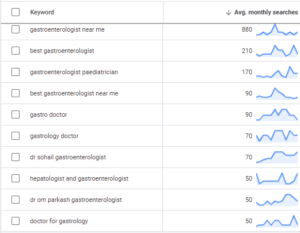 Search engine optimization (SEO) is the organic, non-paid method for inviting more local search traffic to your website. The gastroenterology SEO process starts with identifying all the locally-themed, highly-lucrative keywords that prospective patients use during their searches, and optimizing your website for them. A lot of consistent marketing efforts and activities go into optimizing your site for these keywords; namely, keyword planning, creating thoughtfully-written content, link building, networking with market influencers, etc.
All these efforts ensure that whenever a prospective patient from your locality will search for a gastroenterology provider with related keywords, your website will rank on top of the organic search results. Higher website traffic means increased phone calls and more online appointments.
#2. Online Advertising for Gastroenterologists
While getting ranked for important keywords on Google or getting tons of likes, comments, and/or shares on each post on Facebook is essential, it's not always guaranteed that these organic methods will deliver the expected results, especially in cases of high-competition. In that case, online advertising channels like PPC (paid online ads), remarketing (which is a component of PPC), and Facebook Ads are the ways to target the right prospects at the right time.
GI doctors and surgeons take advantage of these online advertising techniques to instantly reach out to the right prospective patients by bypassing the organic ranking competition. Let's learn more about the different gastroenterology online advertising methods.
#3. Gastroenterology PPC:
If there's a lot of competition for a given keyword, it may take some time before your website gets ranked through your SEO efforts. With Gastroenterology PPC, you can bid on relevant keywords to reach the very top of search engine result pages (SERPs)—even above Google's local organic results (see the screenshot below). The best part about PPC is that you can choose to pay only when a prospective patient clicks on your ads. Google has strict policies when it comes to advertising healthcare services on their platform. Be mindful of language restrictions in your ads. Words like "drugs" and "prescriptions" in your ads will get disapproved.
PPC (Pay-Per-Click) is Google's online advertising channel that lets you run both search ads and display ads. You can opt to get charged only when a user clicks on those ads (that's why it's called pay-per-click). PPC advertisements allow you to be highly-specific about targeting the right audience. You can choose the desired geographic location, preferred patient demographics, and the time of the day for targeting. Your ad campaigns are run according to a daily budget that helps it to be cost-effective, and result-oriented.
#4. Facebook Ads manager:
Like Google, Facebook also lets you show your ads to your target audience through its Ads Manager platform. The targeting options in Facebook are incredibly deep. It allows you to limit your patient audience by age group, gender, location, income level, or even interests and habits on both Facebook and Instagram.
#5. Online Reputation Management for Gastroenterologists:
Gastroenterology is a highly-competitive segment. This means a lot of GI care providers are battling to gain increased market share. In that scenario, providers who don't have a reputable presence will lose the battle to their competitors in terms of patient volume. In today's online world, a reputable presence means lots of 5-star ratings and positive patient reviews across all popular review platforms; including Google, Facebook, Oladoc, Marham, YouTube Comments, etc. Most prospective patients (82% of them, according to our internal quantitive research) use these review platforms to evaluate healthcare providers they're considering.
Online reviews are the most significant factor for your online reputation and those GI providers who have the most number of positive reviews across all the review platforms will be chosen by prospective patients. So how do you get those positive patient reviews and build a stellar online reputation from them? The answer is hiring online reputation management agenncy near you
Want to have one on one consultation or just a casual discussion?  We are 1 Step Away. Reach out to Us