Medical practices and the professionals who work there are different. So are their patients. Given these differences, the websites of medical offices aren't going to be the same.
But there are some things your medical practice might want to incorporate in your online pages. You might want to include more specific information about the:
Practice's location.
Genders and ages of people your practice serves.
Pages, campaigns, and advertisers your users may visit.
Forms, events, appointments, and keywords the users find engaging.
So, your practice might want to include certain personalized information. Why? Well, personalizing your websites could help you accomplish a few tasks. Some of these tasks include:
Explaining your specialty
If you're an optometrist, people might know you're an eye doctor but not much else about you or your profession.
Personalizing your website's information could help you explain your specialty. You could explain what an optometrist does and how the position is different from a career as an ophthalmologist or an optician.
Do you offer extremely specific services? Describe them. You might specialize in treating specific diseases or offer unique treatments to address them. Mentioning these things could help you stand out, informing current patients and possibly attracting new ones.

Describing what you do and don't do
Along the same lines, it could also be beneficial to describe what your practice does and doesn't do.
Such descriptions could be as simple as explaining that you treat the eyes and not other parts of the body. They could also be more in depth, saying that you don't currently offer optical services because you're focused on diagnosing, treating, and caring for your patients' eyes and vision.
Conversely, if you do offer optical services, create at least one page to explain them, maybe even consider adding on-page buttons and other features that make it easy to browse and order eyeglasses and contact lenses.
Additionally, if patients are wondering about paying for this care, you might want to include lists of the insurance coverage your office accepts. Since that may be ever-changing, you might want to list some providers and add a disclaimer that says something like, "Please contact our practice before scheduling an appointment so we could verify your coverage and discuss various options."
Discussing the benefits your practice offers
Talking about the options you offer is an effective way to promote your medical practice.
Have you recently adopted a new software system for your electronic health records (EHRs) and practice management? Mentioning this might appeal to current and potential patients who are interested in technology and its advances.
Devoting a page of your website to this new technology might be useful. Not only would you appeal to the tech-savvy, but you could also use this page to explain your new system to people who might not be as comfortable with the latest technological developments.
Providing information quickly and efficiently
Your web pages, then, are a good way to convey information.
Are you or your patients facing other developments you want to discuss? Add them to your website.
For example, if there's an outbreak of COVID-19 or another disease, you could add updates from the CDC or other agencies about the condition. You could post guidelines for visiting your office in-person, discuss if you offer telehealth service, and explain what you're doing to keep your patients and staff members safe. If these factors change, you could also post updates.
Addressing audience members' concerns
Updating pages and talking about what you're doing is a good way to acknowledge that you care.
Adding other personal details to your site also demonstrates your thoughtfulness. Do patients frequently ask the same kinds of questions? You could address these concerns by creating a FAQ (frequently asked questions) page.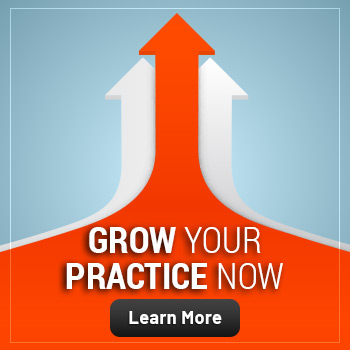 Your practice exists to serve patients. Answering their questions is one way to do that.
Making audience members feel seen
Answering patients' questions lets patients be seen.
So does interacting with them in other ways. Adding a contact page to your website could be useful, and so could discussing different ways to contact your office, including calls, texts, email messages, and online chats and forms. Also, prominently display some contact information, such as your practice's phone number, on each page of your website.
Does your practice management and electronic health record software give you options to send the occasional message? If so, consider using these features to talk about health-related matters and remind people that you're available to answer questions and provide care.
How could you personalize your medical websites?
Personalization is important, then, but how could your medical practice do that on your website? You could consider
Creating user personas
By creating user personas, we're imagining what the people interacting with our site are like.
We could think about personas by asking certain questions:
Why have other patients visited us in the past?
Why are people likely to visit us now and in the future?
Where do the patients live, and how could your office help people in this geographical location?
How old are your patients? You might want to consider adding different web pages that address the needs of students, workers, and retirees.
Do your patients have specific concerns, such as childcare or time concerns? You might discuss how you gather information prior to office visits to make patients' visits as efficient as possible.
Are your patients worried about money? If so, you might want to include pages about insurance providers, payment plans, and other finance-related topics. This could provide reassurance for people who want to visit but are nervous about the cost.
When you create personas, you're trying to address the people who are visiting you and are considering visiting you. If you understand them better, you may be able to serve them better.
Developing specific categories and accessible designs
Since you're in charge of your website, you can customize it to include all the personalized information you want.
Websites typically consist of several pages, so each page would address different categories or aspects of your practice.
You might want to devote different pages to different diseases your practice treats, for example. If you work with other medical providers or insurance companies, you might want to create pages that address their needs as well. Developing informative, easy-to-navigate pages means your website, and your practice, offers full service.
Considering ethics
While some personalization is helpful, too much could hurt.
As we're trying to engage with patients, we still need to be aware of HIPAA regulations and other privacy concerns.
Discussing some things offline is a good idea, especially if they relate to protected health information (PHI). In fact, if you're looking for ways to interact with patients and help them, you might want to contact Digi Experts. We'll help you navigate the digital world to find ways to assist your patients and enhance your practice.